Fixed-Wing Autopilots
S-TEC 55X
Full-Function, Two-Axis Analog Autopilot with Roll & Pitch, and optional Yaw on some makes and models
High-performance, two-axis autopilot for reducing pilot workload in IMC through all modes of flight.

Key Benefits
High Performance: Fully IFR-capable, with nav and glide slope intercepts that make it ideal for approaches.
GPS Roll Steering: When coupled to a GPS navigator, the 55X does not follow CDI movement but the commands directly from the navigator to anticipate turns.
Control Wheel Steering: Hand-fly aircraft and then let the autopilot take over to hold the existing turn rate and vertical speed.
Hundreds of STC's: From light singles through piston twins.
Optional Altitude Preselect*, Electric Trim, Yaw Damper
Compatibility: The S-TEC 55X is a 2-Axis (3-Axis available on some models) Flight Control System, with optional Automatic Pitch Trim. Whether you have advanced glass EFIS displays or the traditional 6-pack steam gauges, the S-TEC 55X supports a wide variety of cockpit setups
*Requires additional equipment
Dependable Features
Case contained, radio stack mount
Heading preselect and hold*
Altitude hold with optional automatic electric trim
Numerous NAV modes (GPS, VOR, ILS, LOC)
Intercept modes – HDG to NAV, NAV to APR & HDG to APR
Precise Approach control for LPV, LNAV, VNAV, LOC, ILS, & VOR
Vertical speed control
Altitude preselect**
Much more…
* Requires heading system with a heading bug
** Requires a baro corrected source
Specifications
Dimensions
Width: 6.25″ (159mm)
Height: 1.50″ (38mm)
Depth: 9.46″ (240mm)
Weight
2.7 lbs (1.22 kg) (Control computer only)
TSOs
TSO-C9C (Automatic Pilots)
TSO-C52a (Flight Director Equipment)
Hardware
RTCA DO-160C to meet TSO-C198
Software
*See a Genesys approved dealer for a list of airframe installation STC's
For More Information
Download The System 55X Digital Autopilot Brochure
Download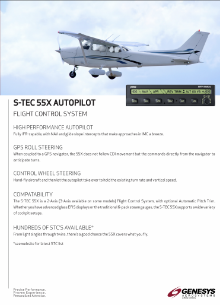 Need a Quote?
Speak with a Genesys Expert
Contact Us