Fixed-Wing Autopilots
S-TEC 3100
The most advanced autopilot for the most types of single- and twin-engine aircraft.
The next-generation Genesys Aerosystems S-TEC 3100 Digital Flight Control System (DFCS) is a fully-featured, attitude-based autopilot that gives you a list of workload-reducing and safety-enhancing capabilities that were previously unavailable on aftermarket autopilots.

Features
Compatible with advanced digital sources & EFIS displays from Garmin, Aspen, and others, the S-TEC 3100 delivers unmatched features and benefits:
Precise, digital flight control for every phase of flight
2-axis (3-axis option on some models)
Automatic Trim included
Envelope Protection/Alerting*
Straight and Level Recovery
Precision Approaches/Missed Approaches
Indicated Airspeed Hold*
Altitude Preselect*
GPS enroute VNAV**
And much more!
*Additional equipment may be required in some configurations
**Requires compatible GPS source and EFIS. Currently, only the Garmin GTNTM Navigators and TXiTM displays will allow VNAV.
Specifications
Dimensions
Width: 6.25" (159mm)
Height: 1.45" (37mm)
Depth: 9" (229mm)
Weight
2.6 lbs (1.18 kg) (DFCS only)
TSOs
TSO-C198 Automatic Flight Guidance and Control System Equipment (AFGCS)
Hardware
RTCA DO-160G to meet TSO-C198
Software
For More Information
Download The S-TEC 3100 Digital Autopilot Brochure
Download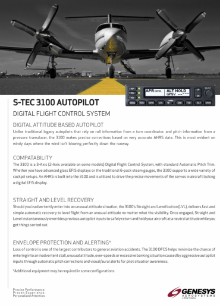 Need a Quote?
Speak with a Genesys Expert
Contact Us