Radio Control Panels
Genesys Control Panel
The Genesys Control Panel (GCP™) is a panel-mount, software-defined radio control panel designed to interface with the Genesys Digital Radio (GDR™) product family. The GCP provides dedicated controls for frequently needed audio/ radio controls, as well as additional controls for selecting and setting parameters. The GCP is designed for both fixed-wing and helicopter aircraft applications. The GCP has the capability to control radio functions via RS-232 or RS-422 serial interfaces. The GCP is NVG compatible for night operations.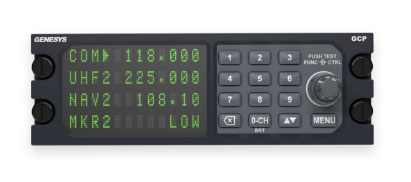 Features
Small, light weight, with high reliability
NVG Compatible
DO-160G Environmental Qualifications
RTCA DO-178C Certified
Utilizes 28 VDC aircraft power
DO-178C: Level A software
TSO-C113B Compliant
RS-232 and RS-422 control
Non-ITAR
Need a Quote?
Speak with a Genesys Expert
Contact Us