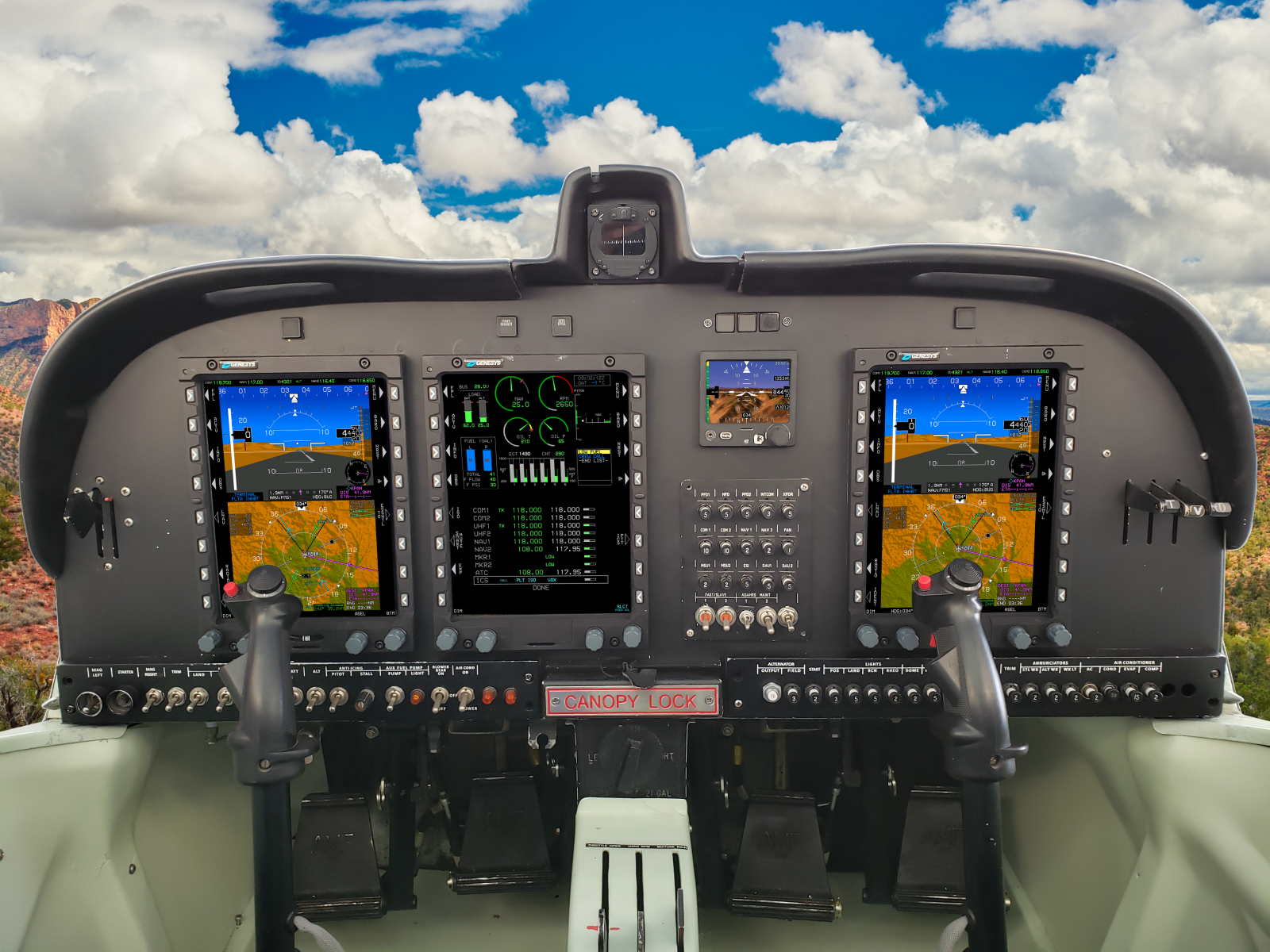 Genesys News
Super Mushshak Flies with Genesys Aerosystems Glass Cockpit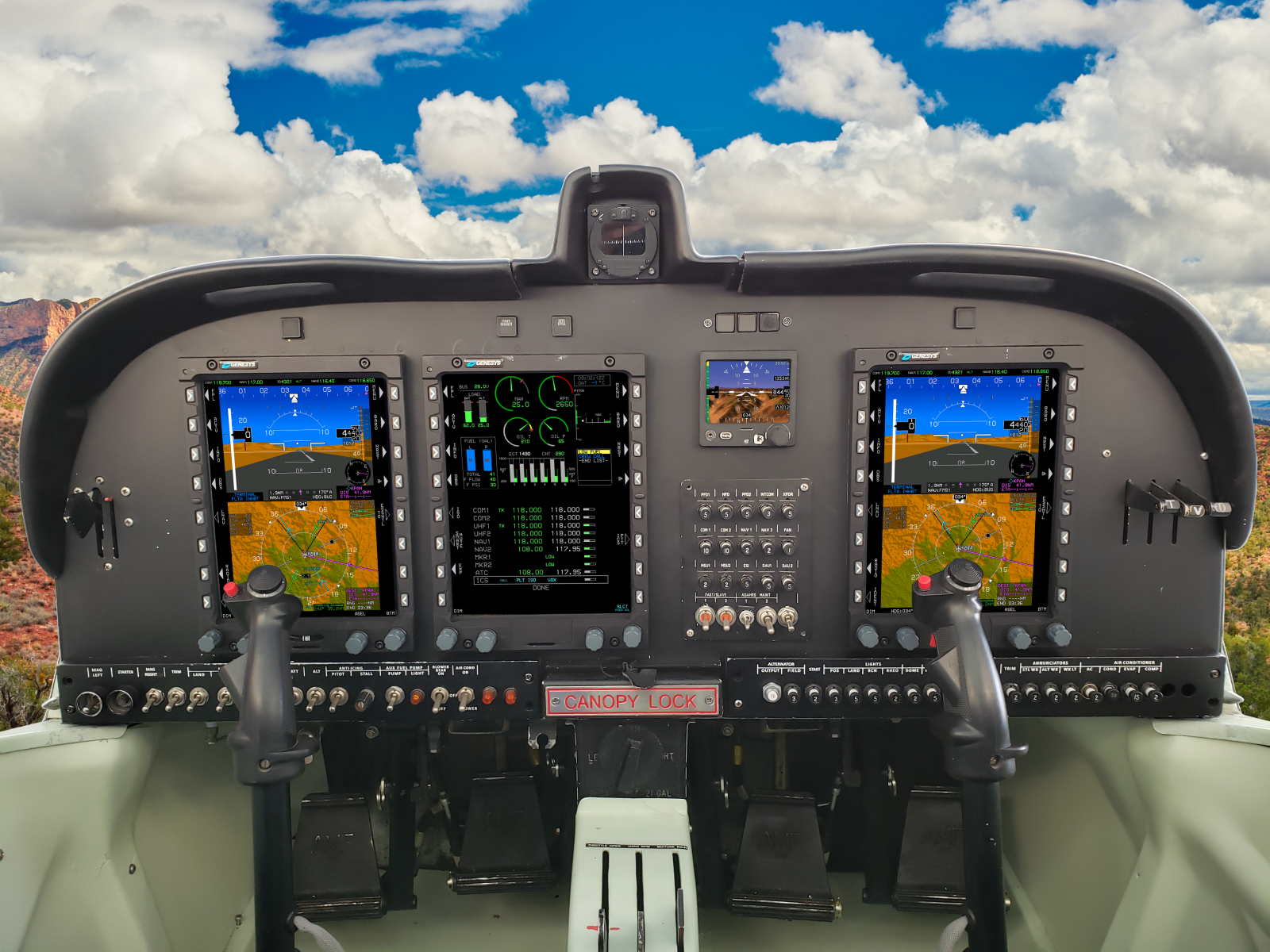 Kamra, Pakistan (March 25, 2020) – A Pakistan Aeronautical Complex MFI-17 Super Mushshak made a successful first flight with a full Genesys Aerosystems glass cockpit today. The Super Mushshak is a rugged and proven military training aircraft capable of +7 and -3 Gs and features automatic, hands-off spin recovery. The two-seat aircraft is equipped with three Genesys flight displays, dual solid-state gyro/air-data sensors, and dual GPS receivers. The system also includes dual Genesys digital multi-mode radios with integrated VHF COM, UHF COM, VHF NAV, localizer/glideslope, and marker beacon, triple-redundant Flight Management System (FMS), radio/audio management, and Terrain Awareness and Warning System (TAWS), and digital engine/systems display.
"The Genesys team and local partner UIT worked closely with the Pakistan Aeronautical Complex's Aircraft Manufacturing Factory to complete the system design, integration, installation, and first flight in less than six months," says Gordon Pratt, Genesys Aerosystems' Chief Growth Officer. "Genesys is transferring technology for local manufacturing of key components for long-term sustainability."
"UIT is proud to team with Genesys Aerosystems in Pakistan and facilitate the technology transfer and local manufacturing of Genesys products to support Pakistani military training aircraft," says Mr. Purvis Hussain, United International Technologies' Managing Director. "The Genesys suite is also being considered for the Pakistan Air Force Mirage modernization program."
The MIL-STD qualified, and NVG-compatible Genesys avionics offer robust and flexible performance for the demanding military training environment and are available for both OEM new production and modernization of the Super Mushshak fleet.
About Genesys Aerosystems
Genesys Aerosystems is a leading provider of integrated avionics systems for military and civil customers. Genesys Aerosystems' avionics systems include synthetic vision with three-dimensional highway-in-the-sky navigation, integrated flight management and hazard alerting, and ultra-compact, highly ruggedized sensors that provide ultimate customer benefits of increased safety, improved dispatch rates, mission flexibility, and seamless future growth. Approved for all classes of aircraft, the company's uniquely customizable open-architecture systems dramatically reduce integration costs and schedules for both OEM and retrofit applications. For more information, visit: https://www.genesys-aerosystems.com
United International Technologies (UIT)
UIT a leading provider of Aerospace & Defense solutions for the Pakistani Military, it is led by a team of experienced professionals including those that have had distinguished careers in the Pakistan Army, Pakistan Navy, and Pakistan Air force. It is supported by an extensive network of representatives in key centres of defence in Pakistan. UIT is not just an alternative to an in-house office for global companies but is designed to provide expertise that helps identify new business opportunities, explore avenues for product growth, transfer-of-technology and indigenous production capabilities to rationalize cost-effective solutions and long-term logistics supportability. For more information, visit: https://www.uit-pak.com
Media Contact:
Simpson Bennett,
Marketing Communications Manager
(940) 327-9035