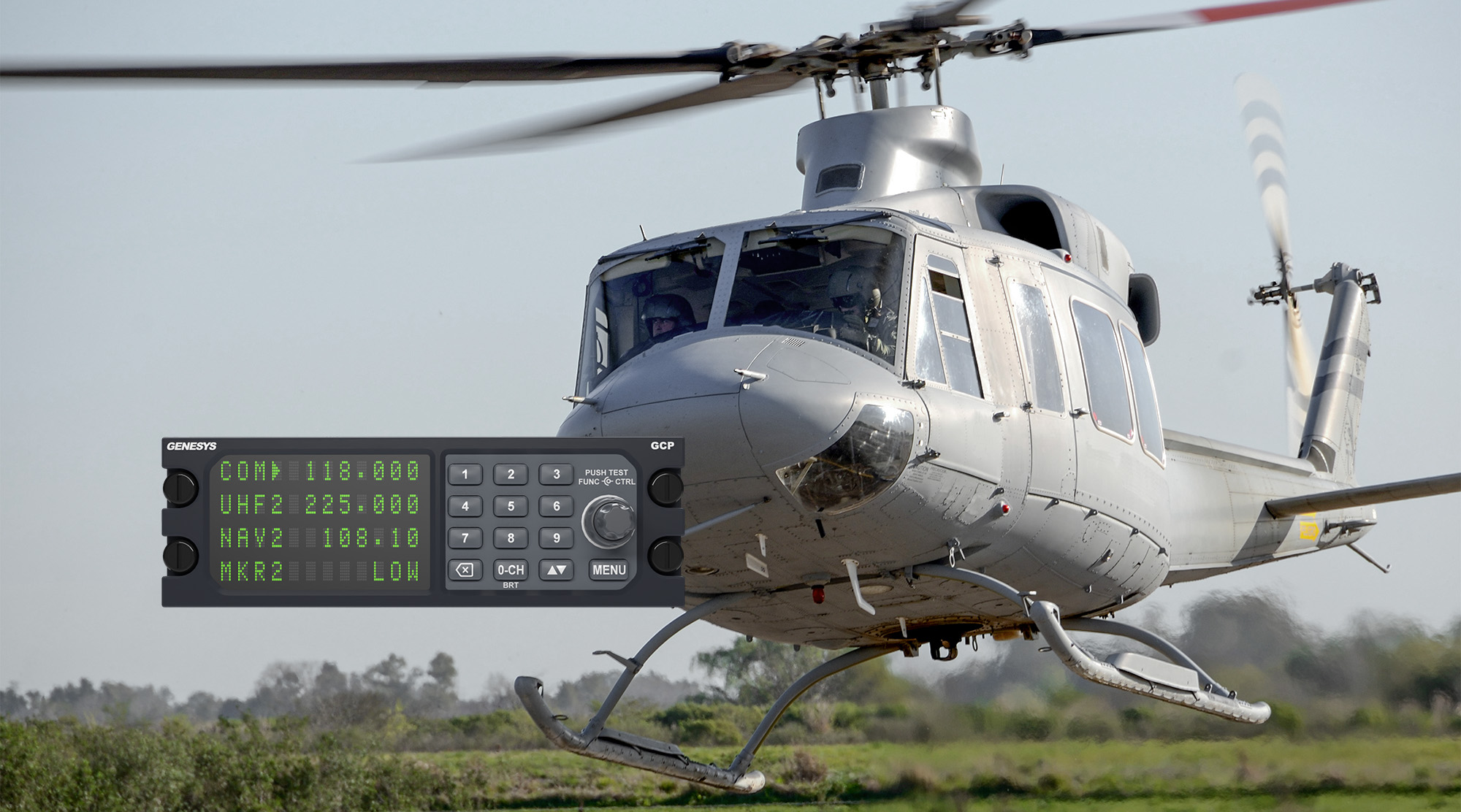 Genesys News
Genesys Aerosystems' GCP Certified
Genesys Control Panel (GCP®) Receives FAA TSO
Mineral Wells, TX (Nov 15, 2023) – Genesys Aerosystems, a Moog Inc. company, announced today that its Genesys Control Panel (GCP) received FAA TSO approval on October 18, 2023.
The Genesys Control Panel is two products in one which can control COMM radios, tactical radios, DME, ADF, transponder, HF, etc. The first being a stand-alone panel-mount radio controller connected directly to the Genesys Digital Radio (GDR®). The second being a Communications Display Unit (CDU) when paired with Genesys' IDU-680 based EFIS glass cockpit. Up to 5 GCPs can connect to the glass cockpit with EFIS radio controls replicated on each GCP.
The GCP provides dedicated controls for frequently needed audio/radio controls, as well as additional controls for selecting and setting control parameters. The GCP is designed for both fixed-wing and helicopter aircraft applications and is NVG compatible for night operations.
"Genesys is excited to add the GCP to our product portfolio. In one small package we are able to provide both a multi-function CDU when connected to the Genesys Avionics Suite™ and a GDR digital radio package when installed in federated cockpits." states John Filmonchik, Director of Radio Products for Genesys Aerosystems.
About the Genesys Control Panel
The GCP consists of a 48-character LED (4 row X 12 column dot matrix) display, with a numeric keypad equipped with 13 soft-key buttons and a dual concentric encoder knob with a center push function. The GCP is a "dumb" terminal, which reports the activation of the encoders and buttons to the external GDR or IDU product over a serial bus. The processed results are returned over the serial bus and displayed on the GCP LED display.
Features of the GCP
Small, lightweight, with high reliability
NVG Compatible
DO-160G & MIL-STD-810 Environmental Qualifications
RTCA DO-178C Level A
Utilizes 28 VDC aircraft power
TSO-C113B
RS-232 and RS-422 control
Non-ITAR
About Genesys Aerosystems, a Moog Inc. Company
Genesys Aerosystems is a leading provider of integrated avionics systems for military and civil customers. Genesys Aerosystems' avionics systems can be offered individually or integrated to provide an entire cockpit solution. Its synthetic vision Electronic Flight Instrument System (EFIS) revolutionized safety in low-level flight operations and is now approved on more than 700 aircraft and helicopter models. Genesys Aerosystems' VFR and IFR approved autopilot solutions are available for both fixed-wing and helicopter aircraft. With more than 2000 flying globally today, Genesys autopilots are certified and available on many aircraft makes and models. For more information, visit www.genesys-aerosystems.com.
About Moog Inc.
Moog is a worldwide designer, manufacturer, and systems integrator of high-performance precision motion and fluid controls and controls systems. Moog's high-performance systems control military and commercial aircraft, satellites, and space vehicles, launch vehicles, defense systems, missiles, automated industrial machinery, marine and medical equipment. Additional information about the Company can be found at www.moog.com
Media Contact:
Jamie Luster, Genesys Aerosystems
Director, Sales and Marketing
(940) 654-0154
Jamie.Luster@genesys-aerosystems.com
Kay Bostaph, Moog Aircraft Group
Marketing Communications Manager
(716) 687-7387
KBostaph@moog.com
###