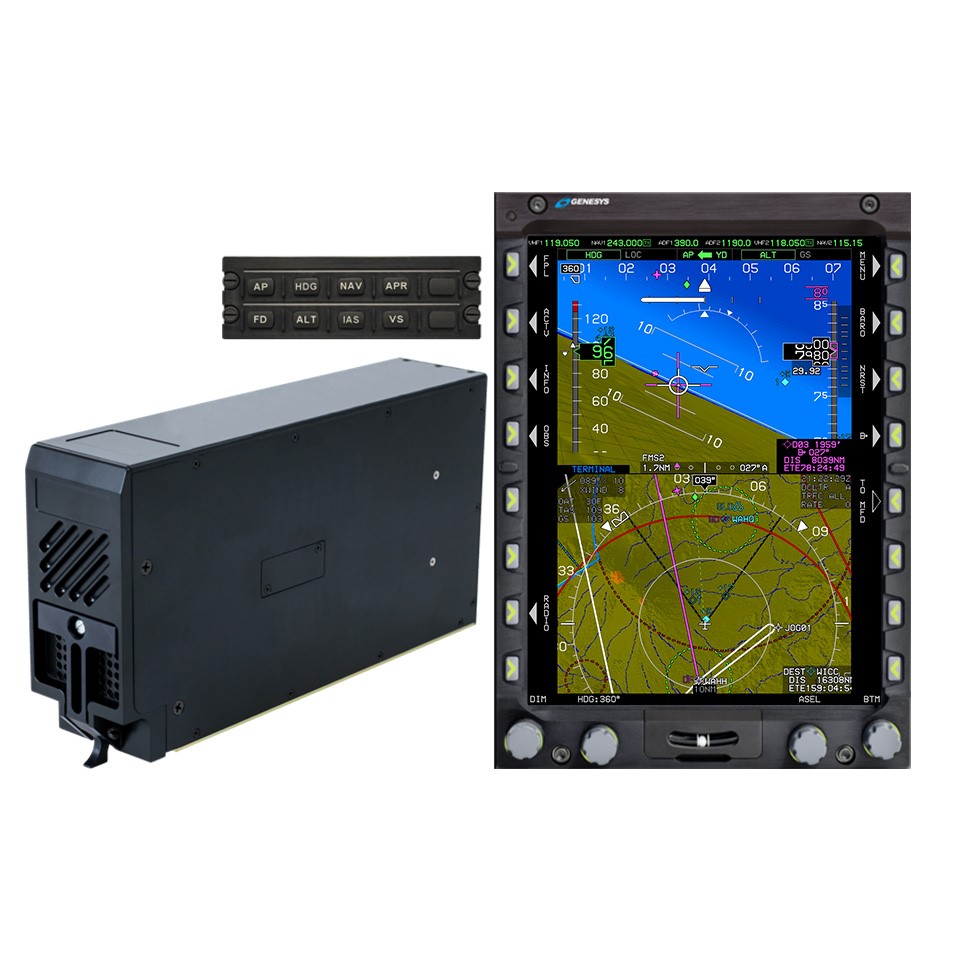 Genesys News
Genesys Aerosystems Completes Autopilot Flight Test on HAL Avro

First Successful Indian Part 25 Autopilot Integration in Recent History
Mineral Wells, TX (May 05, 2022) – Genesys Aerosystems, a Moog Inc. company, announced that it has completed flight testing of its S-TEC 5000R Autopilot on the Hindustan Aeronautics Ltd. (HAL) Avro HS-748 aircraft.
This successful Part 25 aircraft autopilot integration represents another milestone for Genesys Aerosystems and its history of autopilot product leadership in the market. This was the first successful Part 25 autopilot integration in India in recent history. This success further validates the effectiveness and quality of Genesys' avionics solutions offered to this market.
The Autopilot integration program is part of the avionics and engine upgrade and life-extension efforts for the HS-748 Avro aircraft fleet undertaken by HAL.
"Upgrading the Avro aircraft with our S-TEC 5000R is an exciting project for us" said Nick Bogner, director of business development for Genesys Aerosystems, "It demonstrates our capabilities across all aircraft types and also our ability to execute."
About the S-TEC 5000R Autopilot
The S-TEC 5000R is an advanced digital, attitude based, autopilot designed for every phase of flight for high-performance jets and turboprop aircraft. The S-TEC 5000R has a separate flight guidance computer (FGC) and mode control panel (MCP) for maximum flexibility in location of avionics LRU's within aircraft. The MCP consists of buttons to allow the pilot to control the selected autopilot mode. Setting values and displaying the autopilot mode is controlled by the Genesys EFIS display. The S-TEC 5000R digital autopilot is the ideal system to maximize the capabilities of your Genesys Avionics Suite™ or other electronic flight instrument system with Area Navigation. Pilots / operators of turboprop and jet aircraft will appreciate the advanced features that make every phase of flight easier, safer, and more reliable. Advanced capabilities help reduce pilot workload while significantly improving mission efficiency. From "wheels up to wheels down" the S-TEC 5000R integrates with your digital EFIS or FMS to deliver effortless command and control, and the precision that is absolutely essential in today's crowded airspace. The S-TEC 5000R is RVSM compatible and provides advanced features such as Straight and Level Recovery, Genesys EFIS Integration, Envelope Protection/Alerting, Precision Approaches/Missed Approaches and other advanced features.
About Genesys Aerosystems, a Moog Inc. Company
Genesys Aerosystems is a leading provider of integrated avionics systems for military and civil customers. Genesys Aerosystems' avionics systems can be offered individually or integrated to provide an entire cockpit. Its synthetic vision Electronic Flight Instrument System (EFIS) revolutionized safety in low-level flight operations and is now approved on more than 700 aircraft and helicopter models. Genesys Aerosystems' Helicopter Stability Augmentation System and Autopilot (HeliSAS) adds to its extensive range of S-TEC autopilot solutions and brings added safety within the reach of a host of operators for whom such systems were previously too expensive and heavy. For more information, visit www.genesys-aerosystems.com.
About Moog Inc.
Moog Inc. is a worldwide designer, manufacturer, and integrator of precision control components and systems. Moog's high-performance systems control military and commercial aircraft, satellites and space vehicles, launch vehicles, missiles, automated industrial machinery, and marine and medical equipment. Additional information about the company can be found at www.moog.com.
About Hindustan Aeronautics Limited
Hindustan Aeronautics Limited (HAL) is an Indian state-owned aerospace and defense company, headquartered in Bengaluru, India. Established in the year 1940, HAL is one of the oldest and largest aerospace and defense manufacturers in the world today. HAL is currently involved in designing and manufacturing of fighter jets, helicopters, jet engine and marine gas turbine engine, avionics, software development, spare supply, overhauling and upgrading of aircraft. Transport Aircraft Division of HAL at Kanpur India is making Hindustan-228, a 19 Seat Commuter Aircraft for regional air connectivity in civil aerospace and has undertaken upgrade of Avro HS-748 aircraft.
Media Contact:
Jamie Luster, Genesys Aerosystems
Director, Sales and Marketing
(940) 654-0154
Jamie.Luster@genesys-aerosystems.com
Kay Bostaph, Moog Aircraft Group
Marketing Communications Manager
(716) 687-7387
KBostaph@moog.com