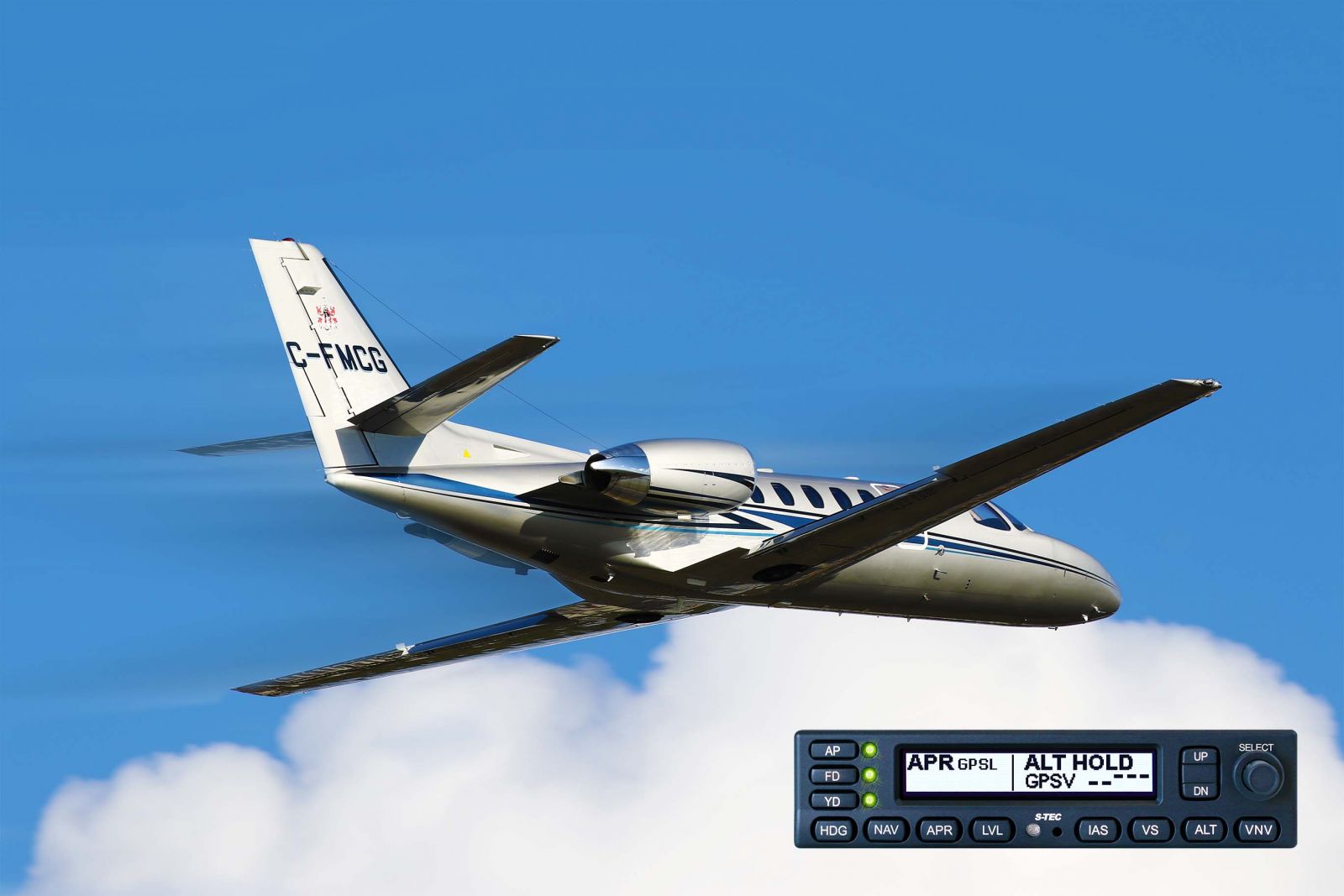 Genesys News
Genesys Aerosystems Partners With JetTech For Retrofit Autopilot STC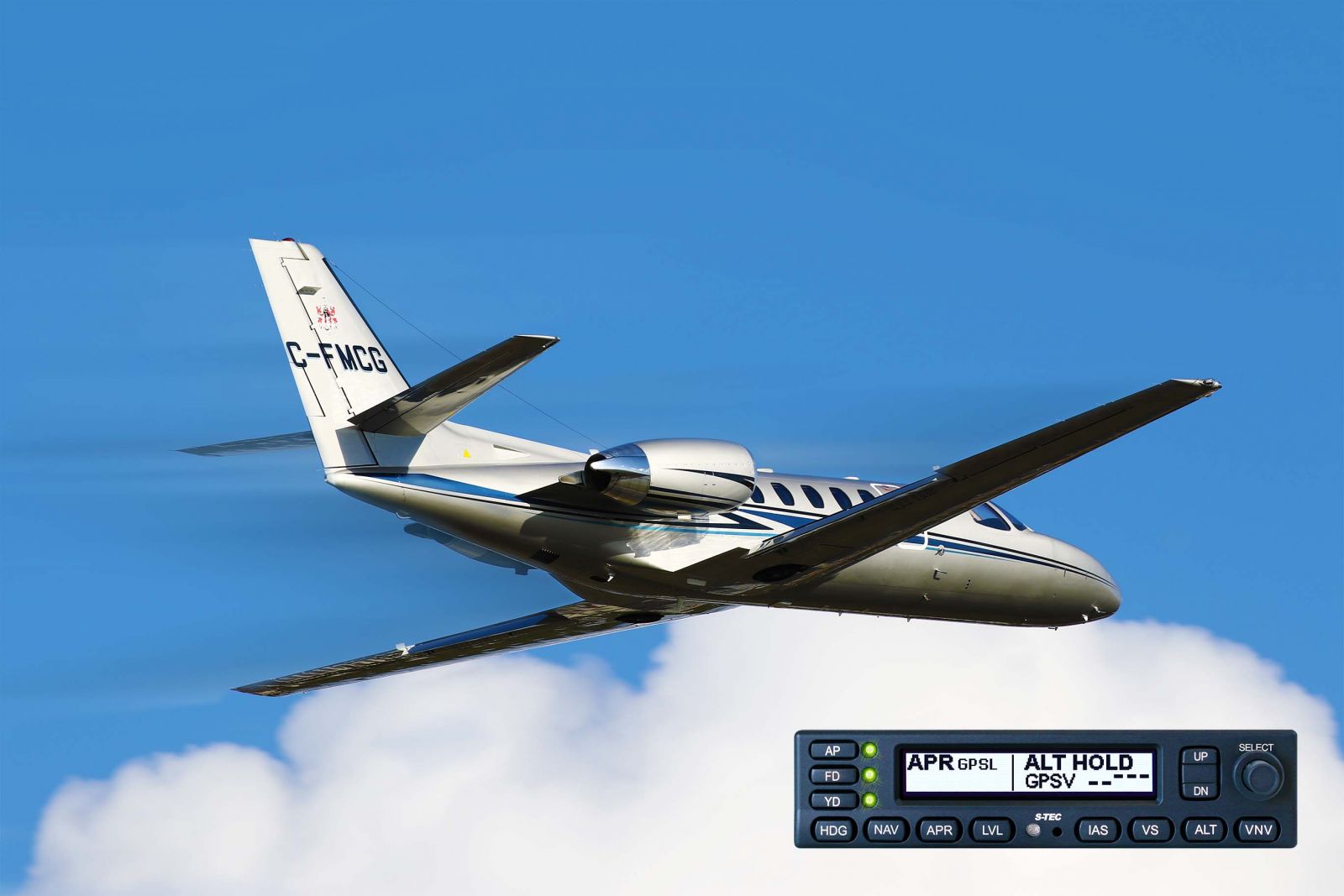 S-TEC 5000 Autopilot Retrofit Solution for Part 25 Aircraft
Mineral Wells, TX (September 30, 2021) – Genesys Aerosystems, a Moog company, announced today that it has partnered with JetTech LLC to certify its S-TEC 5000 Autopilot for FAR Part 23 and Part 25 Citation series of aircraft. The initial STC will include the Citation S550, Encore, Ultra and V models.
Genesys Aerosystems' S-TEC autopilots are certified on many different fixed wing and rotary wing makes and models for general aviation and special mission aircraft however this collaboration represents the first autopilot specifically for retrofit Part 25 aircraft.
"We recognize that autopilots in this segment of the market are becoming obsolete and expensive to maintain," states Jamie Luster, Director of Sales and Marketing for Genesys Aerosystems. "Not only are we offering enhanced capabilities with this upgrade, but also recurring cost savings with new technology and a 2 year warranty."
About the S-TEC 5000 Autopilot
The S-TEC 5000 is an advanced digital, attitude based, Autopilot designed for every phase of flight for high-performance jets and turboprop aircraft. The S-TEC 5000 digital autopilot is the ideal system to maximize the capabilities of your Genesys Avionics Suite™ or other electronic flight instrument system with Area Navigation. Pilots / operators of turboprop and jet aircraft will appreciate the advanced features that make every phase of flight easier, safer, and more reliable. Advanced capabilities help reduce pilot workload while significantly improving mission efficiency. From "wheels up to wheels down" the S-TEC 5000 integrates with your digital EFIS or FMS to deliver effortless command and control, and the precision that is absolutely essential in today's crowded airspace. The S-TEC 5000 is RVSM compatible and provides advanced features such as Straight and Level Recovery, EFIS Integration, Envelope Protection/Alerting, Precision Approaches/Missed Approaches and other features.
About Genesys Aerosystems, a Moog Company
Genesys Aerosystems is a leading provider of integrated avionics systems for military and civil customers. Genesys Aerosystems' avionics systems can be offered individually or integrated to provide an entire cockpit. Its synthetic vision Electronic Flight Instrument System (EFIS) revolutionized safety in low-level flight operations and is now approved on more than 700 aircraft and helicopter models. Genesys Aerosystems' Helicopter Stability Augmentation System and Autopilot (HeliSAS) adds to its extensive range of S-TEC autopilot solutions and brings added safety within the reach of a host of operators for whom such systems were previously too expensive and heavy. For more information, visit www.genesys-aerosystems.com.
About Moog Inc.
Moog Inc. is a worldwide designer, manufacturer, and integrator of precision control components and systems. Moog's high-performance systems control military and commercial aircraft, satellites and space vehicles, launch vehicles, missiles, automated industrial machinery, and marine and medical equipment. Additional information about the company can be found at www.moog.com.
Media Contact:
Jamie Luster, Genesys Aerosystems
Director, Sales and Marketing
(940) 654-0154
Jamie.Luster@genesys-aerosystems.com
Kay Bostaph, Moog Aircraft Group
Marketing Communications Manager
(716) 687-7387
KBostaph@moog.com
We invite you to visit with Genesys Aerosystems and discuss its Autopilot solutions and more at NBAA Business Aviation Convention & Exhibition (NBAA-BACE) booth #565, occurring Oct 12 – 21, 2021 in Las Vegas.